※ posted 2008/02/01 投稿
イリーナ・スルツカヤ(Irina Slutskaya)が、お金・銀行利用について答えたインタビュー記事です。
English Translation by Free Online Translator "WorldLingo" & "PROMT"
Banki.ru
07.01.2008
Звёзды в банке: Ирина Слуцкая
Stars in bank: Irina Slutskaya
Ирина Слуцкая
Чемпионка мира по фигурному катанию
Irina Slutskaya
World champion of figure skating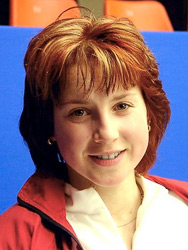 Большая часть моих сбережений хранится не в России. Деньги, которые получаю здесь, в основном тут же тратятся. У меня открыт счет в Сбербанке, куда перечисляется «президентская» зарплата. Все члены сборной страны обслуживаются именно в этой структуре. Есть пластиковая карточка и даже сберкнижка. Дружу со Сбербанком потому, что мне это удобно и понятно. У меня хорошие отношения с филиалами, где я обслуживаюсь.
The most part of my savings is stored not in Russia. Money which I receive here, basically spent here. I have the open account in the Savings Bank where is transferred the "presidential" salary. All members of the composite country are attended precisely in this structure. There is a plastic card and even savings book. am friends of the Savings Bank because it is convenient and understandable to me. I have good relations with the branches, where I am attended.
В свое время пыталась работать с Внешторгбанком и Альфа-Банком, но как-то не сложилось, приходилось все время куда-то перепрыгивать. Причина уходов банальна: мне нужны деньги, я их снимаю, а счета полностью закрываю.
In due time I attempted to work with Vneshtorgbank (Foreign Trade Bank) and Alpha-bank, but somehow not developed, it was necessary always to somewhere jump over. The reason for withdrawals is commonplace: money necessary to me, I remove them, and I close accounts completely.
Работу российских банков объективно оценивать не могу, так как не держу в них крупные суммы. У меня есть лишь несколько пластиковых карточек на текущие расходы. А основные средства находятся за границей. Если я работаю в Америке, там же счет и открываю. Мне так удобнее, чтобы не перекидывать средства. А то начинается: «Хотите перевести? Мы вам тут 3% снимем, там 5%…» Терять деньги я не намерена.
Objectively I cannot evaluate the work of Russian banks, since I do not hold in them large sums. I have only several plastic cards to the current expenditures. And the basic means are located abroad. If I work in America, I open the account there. So it is more convenient for me not to throw means. And that begins: "You wish to transfer? We shall remove for you here 3%, there 5%…" To lose money I am not measured.
Была у меня одна интересная история с банком, который, позвольте, называть не стану. Я выиграла турнир, и мне как победительнице насильно повесили этот банк и человека-куратора. Он рассчитал, что в год я должна буду ему платить несколько тысяч только за обслуживание моего счета. Названивал мне этот менеджер долго, говорил, что, мол, у меня подарок, я его выиграла, надо бы воспользоваться… А я так и не могла рассчитать, сколько же должна зарабатывать, чтобы был доход. Представитель банка постоянно интересовался, когда поступит перевод средств и что я намерена с деньгами делать. Короче, счет у меня в этом банке открыт до сих пор, есть карточка, но на ней ни рубля. Вот теперь с интересом жду, во сколько мне обойдется обслуживание…
There was in me one interesting history with the bank which, please, to name shall not begin. I won a tournament, and to me as to the winner they by force hung up this bank and the person-curator. Calculated, that per year I had to pay to it several thousand only for the maintenance of my account. This manager kept ringing to me for long, told that, supposedly I have a gift, I would win it, it is necessary to use… But I so could not calculate, how much it must earn so that there would be the income. The representative of bank constantly was interested, when the transfer of means enters and that I am intended with the money to make. More shortly, the account at me in this bank is opened til now, there is a card, but on it not ruble. Here now with interest I wait, in how many to me service will manage …
Вопрос о доверии к валюте - сложный… Сейчас у меня больше средств в рублях.
Question about confidence in currency - complex… Now in me it is more than means in rubles.
У нас в семье у каждого есть своя заначка. Однако основной бюджет я бы назвала все же общим.
Everyone in my family has a grist. However, I would name the basic budget nevertheless general.
Покупки для малыша сейчас забирают очень много средств. Не хочется своего ребенка одевать в ширпотреб, но и костюмчик за 5 000 рублей тоже считаю расточительством. Поэтому усердно путешествую по магазинам в поисках компромисса.
Purchases for my kid now take away many means. It would not be desirable my child to dress in consumer goods, but also costumer for 5000 rubles I also consider extravagance. Therefore I assiduously travel on shops in search of a compromise.
Пластиковые карточки - странная вещь. С них деньги разлетаются в момент и незаметно.
Plastic cards - strange thing. From them money fly away at the moment and it is unnoticeable.
В качестве альтернативных вложений хотела купить акции ВТБ и не успела. Правда, недавно слышала, что там у них не все так гладко и акции потеряли в цене… Поэтому хорошо, что не вложилась. Видно, вмешалась судьба…
As the alternative investments wished to buy actions VTB and did not have time. However, recently heard, which there not all so is smooth in them and actions lost in the price… Therefore it is good that it was not put. Evidently, fate interfered…