※ posted 2008/01/31 投稿
イリーナ・スルツカヤ(Irina Slutskaya)は Casio のデジカメ、台湾
HTC
の携帯電話、iPod nano を使っているという記事です。
English Translation by Free Online Translator "WorldLingo"
Itogi.ru
01.12.2007
Чем пользуетесь
How you use
О технике. Я отношусь к технике хорошо, но разбираюсь в ней только по необходимости - я не фанат высоких технологий. Обычно новые устройства сама не покупаю - мне их дарят, правда, по моей просьбе. Дома у меня нет никакой суперпафосной аппаратуры - все, как у всех. К тому же смотрю телевизор и слушаю музыку дома я очень редко - это еще одна причина, почему я не придаю особого значения технике в квартире. С фотоаппаратом примерно та же история: у меня самая обычная цифровая мыльница от Casio.
About technology. I concern to technology well, but I examine it only necessarily - I am not the fan of high technologies. Usually I do not buy new devices - they give them to me, true, on my request. Houses I do not have any super-pathos-arousing equipment - all as in all. Moreover I very rarely watch TV and listen to music in house - this is one additional reason, why I do not attach special importance to technology in the apartment. With the camera approximately the same history: I have the most usual digital soap-box from Casio.
О мобильнике. Сейчас у меня коммуникатор HTC - кроме стандартных функций, часто использую встроенную фотокамеру, чтобы потом отослать снимки по MMS. Еще у меня есть Bluetooth-гарнитура - очень удобная вещь, особенно за рулем, но чаще все равно использую обычную, проводную.
About cell-phon. Now I have communicator HTC - besides standard functions, I frequently use the built-in camera then to send pictures on MMS. Even I have a Bluetooth- set - very convenient thing, especially when driving, but I more frequently nevertheless use usual, wire.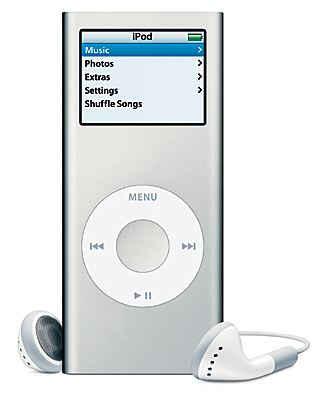 О музыке. Я всегда слушаю музыку в автомобиле - просто потому, что там проходит большая часть моей жизни. Так как я не люблю громкие басы и прочие навороты, акустическая система с CD/MP3 в моей машине штатная, от производителя, и мне ее вполне хватает. Еще из музыкальных приборов у меня есть MP3-плеер - iPod nano.
About music. I always listen to music in the car - simply because there passes the large part of my life. Since I do not love loud basses and other [navoroty], acoustic system with CD/MP3 in my car regular, from the producer, and to me it completely is sufficient. Even for the musical devices I have MP3-player - iPod nano.