※ posted 2007/08/10 投稿
U.S. Figure Skating
August/September 2004
KIDS' QUESTIONS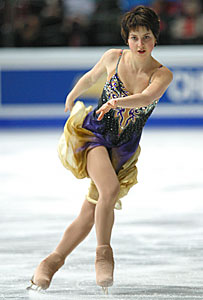 2002 Olympic silver medalist and World champion Irina Slutskaya is back on the comeback trail after suffering from a serious illness most of last year. She took some time out to answer your questions!
Q: At Worlds your illness was only mentioned. Can you elaborate on what exactly happened? Julia Stone, 15, Huntsville
A: My illness in English is pericarditis, which means that the sac around my heart is inflamed causing the heart functions to be more difficult than for normal people. I didn't know that I had this at first, and I was getting more and more sick with bronchitis and pneumonia. I felt so bad. I was also getting so depressed because I was always getting sicker and never feeling better.
Q: How did you feel when you found out you had a disease that could end your skating career? Were you scared that you would never be able to skate again? Sylvi Pultorak, 12, Joliet, Ill.; Adriana Ragni, 15, Nazareth
A: I was so upset and crying all the time. I cannot imagine life without skating.
Q: Did all your jumps and spins come back naturally or did you have to work extra hard to get them back? Tania Matsuoka, 12, Sudbury; Laura Albrecht, 15, Cody
A: No, they didn't come back so quickly. I had to really fight for that.
Q: Are you worried about your heavy schedule affecting your health? How are you able to skate and keep your stamina with your condition, and how does it affect your lifestyle? Ethan Amaral, 8, Greenwich, Conn.; Karen Molina, 15, Carlsbad
A: Yes, I worry about the schedule because now I need to rest more than I did before. My stamina is not the same as before. I try not to get frustrated with that and work through it to bring myself back to the best competitive condition. My lifestyle is like that of a skater, but I have to work harder, be more careful with my health and deal with the side effects of my illness and the medicine.
Q: While off the ice were there any special types of exercises you did to keep in shape? What would be your advice to skaters who have to take some time off because of an injury? Kelly Rogers, 13, Arvada
A: Yes, I have a workout plan that my coach made for me, and I stayed with that to keep healthy. I would recommend to any skater who must take time off because of injury to pay attention to the injury, rest your body and listen to your coach's advice.
Q: Congratulations on such a wonderful showing at Worlds! Was it difficult to get back onto the ice after being in the hospital so long? Lanie Duncan, 18, Simi Valley, Calif.; Alyssa, 15, Waterford, Mich.; Melissa Kwan, 15, Sugar Land, Texas
A: Yes, it was so hard to skate again at Worlds. I wanted to be competitive, but it was impossible because I had such a short time to get prepared. But I was thankful to be there anyway.
Q: How is your mother doing with her illness? Is she out of the hospital? Rachel A., 16, London; Garrett Kling, 13, Watertown, Minn.
A: My mother is fighting for her life. She is still in the hospital, and she is on the list to receive a kidney.
Q: A few years ago you mentioned you and your husband wanted to start a family in the near future. Is this still true or will you wait until you finish competitive skating? Darrell Chin, 18, Chicago
A: Yes, I would love to have a family, but I don't know when I will be ready for that. I want to finish skating and take care of my health.
Q: How long have you known Michelle Kwan? Is she your friend? Who is your best friend on the Champions on Ice tour? Layne Gregory, 13, Athens, Ohio; Sergio Antonio Ayala Mar, 13, Veracruz, Mexico; Georgina Oliveira, 13, Ludlow, Mass.
A: I have known Michelle for 7 years, and I like her very much. We competed so many years together and toured with Champions on Ice together. Yes, she is my friend. My best friend on the Champions on Ice tour is Irina Grigorian.
Q: Are you planning to compete in the 2006 Olympics? Lauren Link, 13, Des Plaines, Ill.; Anika Lohrentz, 17, Madison, Wis.
A: I want to compete in the 2006 Olympics, and I am working so hard to make it there.