※ posted 2006/08/09 投稿
イリーナ・スルツカヤ(Irina Slutskaya)は、
2004 Marshalls World Skating Challenge
に参加し、5位でした。
日時 Date :
2004/04/06
場所 Place :
Dunkin Donuts Center - Providence, Rhode Island / USA
参加選手 Competitors :Ladies
Michelle Kwan (USA)
Sasha Cohen (USA)
Jennifer Kirk (USA)
Shizuka Arakawa (JPN)
Irina Slutskaya (RUS)
Fumie Suguri (JPN)
Miki Ando (JPN)
Men
Timothy Goebel (USA)
Johnny Weir (USA)
Michael Weiss (USA)
Evan Lysacek (USA)
Evgeny Plushenko (RUS)
Brian Joubert (FRA)
Exhibitions
Tanith Belbin & Ben Agosto (USA)
Rena Inoue & John Baldwin (USA)
成績 Result :
1. Sasha Cohen USA
2. Shizuka Arakawa JPN
3. Michelle Kwan USA
4. Miki Ando JPN
5.
Irina Slutskaya
RUS
6. Jennifer Kirk USA
7. Fumie Suguri JPN
プログラムと動画 Program & Video :
Wonderland / Whisper / Croatian Rhapsody 
YouTube
テレビ TV :
abc
スポーツアイESPN (2004/12/05)
写真 Photos :
USFSA >
2004 Marshalls Backstage Photos 1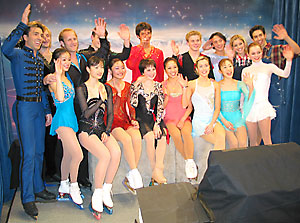 USFSA >
2004 Marshalls Backstage Photos 2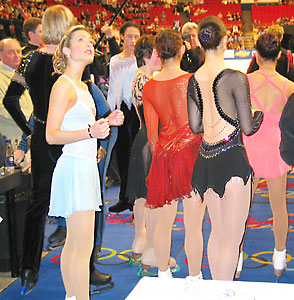 ニュース News :
USFSA >
Sasha Cohen Lands Back on Top at Marshalls World Skating Challenge
Irina Slutskaya
of Russia pulled off an animated, powerful performance. She finished in fifth place after stepping out of her planned triple-double-double. The 2002 World champion proved she was back among the World's best after a heart ailment kept her out of the majority of the 2003-04 season. Her first major competition was the World Championships where she struggled and placed ninth. Her fifth at the Marshalls World Skating Challenge marked her return.
"
When I finished Worlds I was thinking I needed one month more,
" Slutskaya said. "
It keeps getting better and better. I feel more confident; I'm starting to feel my skating. I missed this – each moment I hold and enjoy.
"